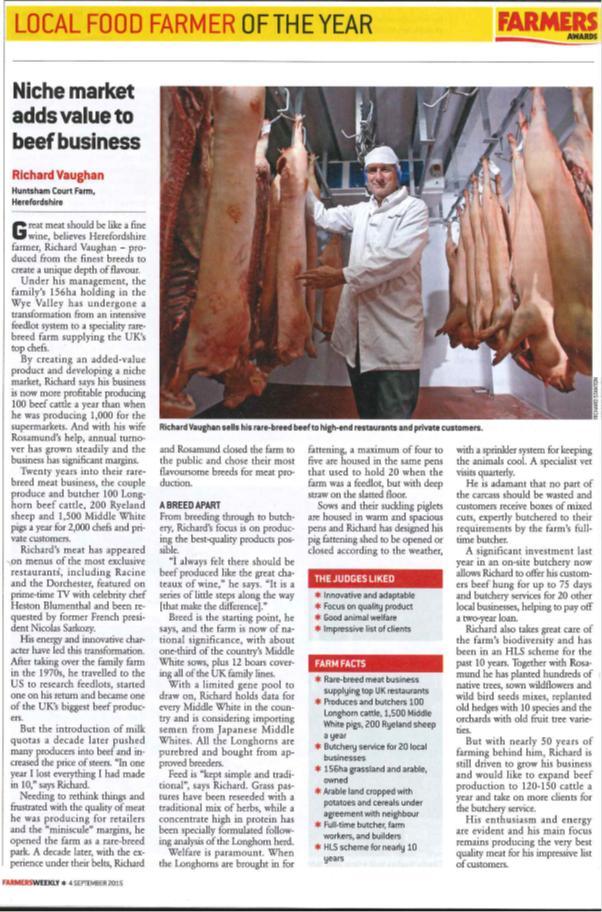 Extract from Financial Times Magazine – Weekend 23-23rd August 2015
By Chloe Scott-Moncrieff
How to age gracefully
In Ross-on-Wye, at Huntsham Court Farm, farmer Richard Vaughan produces 55-day-age rare breed Middle White pigs. He accepts it's unconventional. "A few years ago [Chef] Nuno Mendes asked if we could do a 40-day hung pork. The abattoir I was using then said I was mad. But it didn't go green and I sent it to Nuno. So I tried more carcases in better fridges and sent then to Sat Bains, Marcus Wareing, Michel Roux and Jeremy Lee. The feedback was it was outstanding. "Now, so prized is the sweet nutty hog that Simon Rogan recently plated it with charred spring onion, abalone mushroom, Jersey Royals and nasturtium at Fera at Claridge's for the world's 50 Best Restaurant awards party.
Vaughan has had to build special fridges and cutting rooms to meet demand. Does the pork ever go off? "We've never thrown a carcase away. There is a difference between nice rotting and nasty rotting. I call this noble rotting. Any bacteria is on the exterior of the meat, inside, won't have it because it's a sealed lump."
Vaughan agrees with [Brett] Graham that extreme ageing is the result of fierce culinary competition. "All  our best chefs are in the business of thinking how can I get that wow factor?"
We are blowing our own trumpet but are very proud that Simon Rogan used our 55-day dry-aged Middle White Pork for the main course of the dinner which was held in his restaurant, Fera at Claridge's,  to celebrate this year's 'World's 50 Best Restaurants' awards.