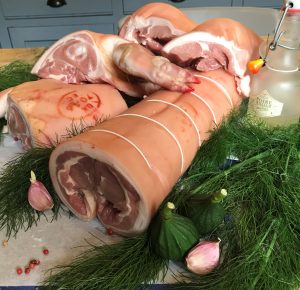 Suckling pigs
Suckling pigs from our Middle White herd are a luxury treat – though not as expensive as you might expect for succulent young meat of this quality. They were on the menu in a number of the UK's finest restaurants.
If you have a large barbecue or spit roaster, they make the perfect meal for a summer gathering in the garden. However we can also supply them butchered for those who want to enjoy their deliciously sweet and light meat in more manageable quantities.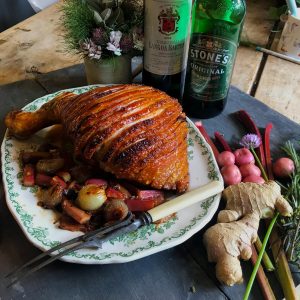 Whole suckling pig bone-in for spit-roasting and weighing 11-14kg will produce 30 servings. Price £23.00/kg.
Suckling pig fully butchered, oven-ready and weighing 11 – 14kg. Price £26.50/kg.
Supplied as
• Two shoulder joints – about 4 servings each
• Two leg joints – about 6 servings each
• A single loin joint, boned and rolled – about 10 servings
• 2 kidneys
• Plus head
Half suckling pig fully butchered, oven-ready and weighing about 5 – 7kg. Price £28.70/kg.
Supplied as
• One shoulder joint – about 4 servings
• One leg joint – about 6 servings
• Half a loin joint, boned and rolled – about 5 portions
• One kidney
• Plus half head