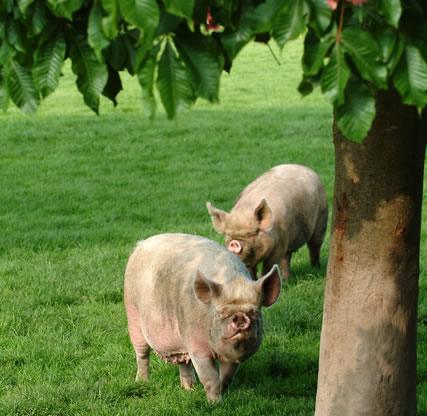 Middle White Pork
Huntsham pork comes from our pedigree Middle White herd.  In the 1930s the Middle White was the pork pig of England. However, to compete with the influx of Danish bacon after the war, farmers started to breed larger, leaner pigs for bacon. Young pigs from these bacon breeds are now the source of most pork sold today and the Middle White, the only specialist pork pig, is very rare. Its flavour and crackling are unlike those of any modern pork pig and its fat makes the best roast potatoes in the world!
Our sausages are made from the prime meat of our Middle Whites (in contrast to most commercially available sausages) and are served in Michelin starred restaurants and gastropubs throughout the country.
Huntsham pork and sausages are available in a variety of options to suit individual needs. Our pigs are not large which means that even a half pig will fit in a domestic freezer drawer.
Ruth Rogers – River Café, London
"Slow roasted Middle White pork loin from Richard Vaughan with Ligurian olives, fresh rosemary, garlic and Pinot Bianco is always a favourite on the River Café menu."