What top chefs say:
Our customers include some of the best-known restaurants in the country and many discerning private households. Here are comments about our meat by some well-known chefs:
GARETH WARD YNYSHIR, MACHYNLLETH, 2* MICHELIN
Ryeland is the best lamb I have ever tasted, super tasty super tender with a real good fat content."
Matt
Rose and Crown Shilton
The Sirloins are simply out of this world and certainly the best beef I've eaten in this country I was hoping to use your video on our social media platforms, to let guests know about this."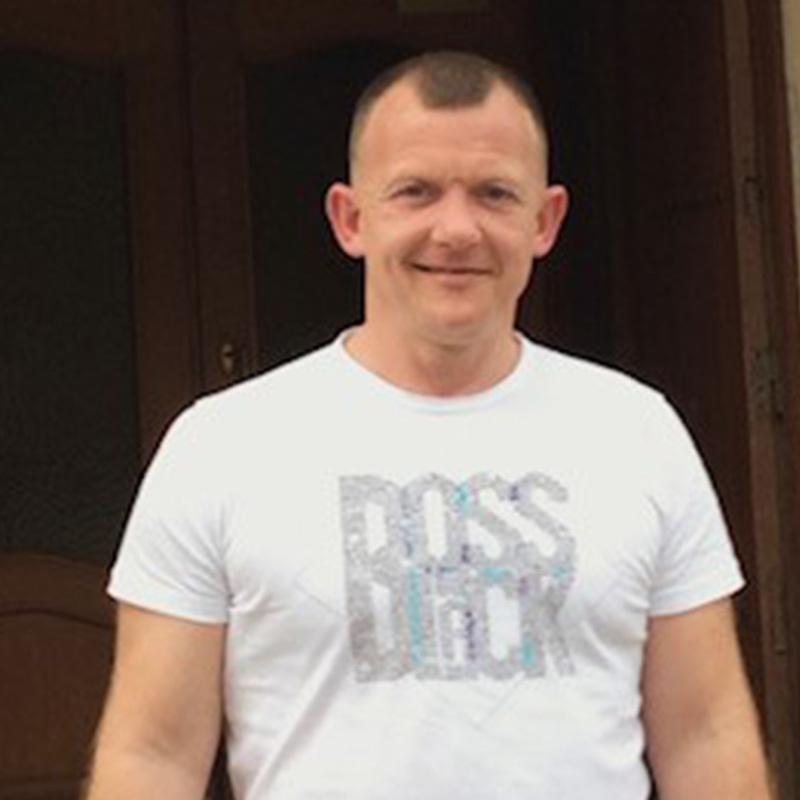 28th Sept
Daniel Stuki
Head Chef Sketch (The Lecture Room) 3* Michelin
We are blessed to have such a unique ingredient in the Lecture Room kitchen. The flavour & quality of Huntsham Farm's aged Middle White pork is like no other and we are proud to serve this on our a la carte menu"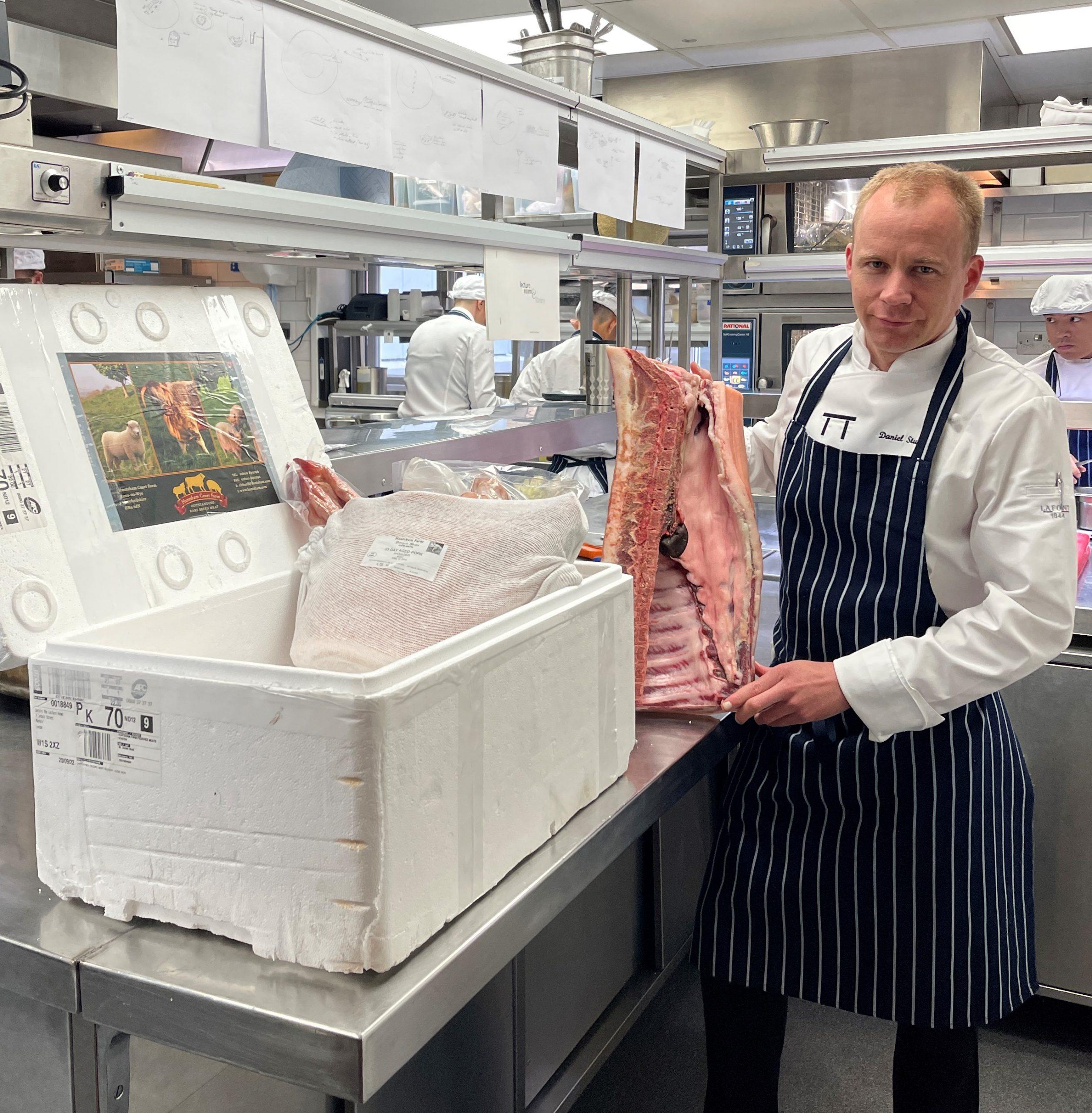 Fri 1st Feb
Paul Welburn, executive chef at Michelin-starred The Oxford Kitchen.
Paul Welburn, executive chef at Michelin-starred The Oxford Kitchen, on the local produce that makes him tick. Huntsham Farm, who we have started working with, are based just 60 miles from us near Ross-on-Wye – they are great producers of rare breed middle white pigs which we take now on the menu, great product and amazing flavour.
Tues 8th Nov
Zev Robinson's new documentary on the Michelin-starred London restaurant Pied à Terre showcases their relationship with its suppliers. Have a look at the short film which features Richard Vaughan discussing the relationship between Huntsham Court Farm and Pied à Terre.Click here to watch the video.
Wed 27th Jan
On another note, wow, how amazing the suckling pigs are!!!!! It makes me sooo happy prepping them and cooking them, this is what being a chef is all about!!! Super happy customers here!!!
Thanks,
Jenny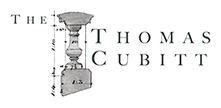 7th April
Dear Richard,
Just a brief, but sincere, note of thanks. The rib of beef which you supplied us for Easter must rank amongst the best in the country. It was superb.
Many thanks to you and your staff at Huntsham Farm
Best wishes
Nigel Jones – Nanteos Mansion, Aberystwyth
12th March
Hi Richard,
Just thought I would drop you a line and let you know what we have been up to this week…
Fantastic meat this week, we used the Longhorn 75 day aged shin for a braised pasta dish with a fantastic pasta called Croxetti a 500AD- 1500 century pasta very rarely used in the modern day was fantastic and well worth the effort and time a good deal of history went into this dish. I acquired a Croxetti stamp last time I was in Italy from Varese a small northern town, from a chap who makes them by hand using local wood and local tools.
For the weekend we are using the ribs for our Sunday special slowly cooked on the rotisserie serving them for people 2- 8 people depending on the size of the rib should be fantastic with a nice fresh salad and rotisserie potatoes cant wait for it.
So what's next? Keeping in mind our budget doesn't stretch far I wish it would be it just cant. Pork ? Lamb for Easter? Slow roasts are great for us rotisserie is our game. Let me know.
Thanks
Adam Middleton
Head Chef
LeCoq, 292 – 294 St Pauls Road, London. N1 2LH

Robby Jenks – Head Chef
10th October
| | |
| --- | --- |
| | @HuntshamFarm I have never had beef that comes close to what you produce! And I've been around the block. It never fails to excite |
30th May
Hi Richard,
We have been sampling lots of sausages here at the castle over the past 2 weeks!
Your sausage was the latest about 10 min ago, OUTSTANDING! They are the most expensive by a long way however so worth it. I will struggle with my costing but if I am honest it is so worth it – LOVE them
Could we have 10kg for next week and a 5kg standing order weekly there after ? is this ok to do ?
Kind regards,
Robby
Ps I am eating a sausage sandwich and loving it

In the Kitchen News by Rupert Gleadow of Gravetye Manor
With snow on the hills and morning temperatures well below freezing our creative juices are biased towards a much heartier, warming style in an effort to fend off this icy spell. Braised meats, broths and roasted root vegetables all seem particularly appealing on cold, icy days and we remember how lucky we are to have such a close relationship with a small rare breed supplier over on the Welsh border who supplies some of the finest pork and beef in the country.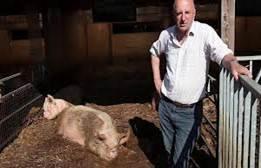 I have been guilty over the years of using Angus beef from Scotland as I have always assumed it to be the best without trying the alternatives. But recently I was contacted by Richard Vaughn from Huntsham Farm in Ross on Wye who was trying to persuade me to try his Longhorn beef. What a revelation! The depth of flavour, tenderness and unique marbling of this beef was astounding. More expensive than its Scottish cousin, but the love and attention to detail possible in a smaller farm really shows in the finished product. I was completely sold on Richard's beef and have spent the last few months playing with the various different cuts braising, roasting, poaching and frying this amazing and versatile animal while developing a number of new dishes with the team to best showcase these flavours.
Having had such success with the Longhorn beef, I was eager to try Richard's "Middle white" pork. I bought half a pig to sample all the various different cuts. There was a lot of excitement in the kitchen the first day that the pork arrived. I must say I was a little worried that it would maybe not live up to the amazing experience that was the "Longhorn" tasting.
I needn't have worried. What a sensational animal!! I have never tasted pork like it. Not being a great lover of fatty meats, I was concerned about the generous layer of fat in all the cuts that we tried but it does not have the flavour or texture of any fat I have come across before. I found myself tearing at a slow roasted shoulder, with fat dripping off everything, almost feeling like I had never tasted pork before. Certainly this is about as far removed from the pork chops I ate in pubs and restaurants growing up as it is possible to be. For the second time in as many months, I was convinced that I had found the very finest example of an animal that I had ever tasted. And from the same farm!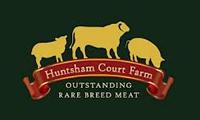 Both these exceptional meats are going to feature regularly on our menus in the future. I am playing with some ideas now that will certainly become part of our "new look" tasting menu that features all the finest ingredients that we have managed to locate over our careers and will bring together in one "prestige" tasting menu.
Thank you, Richard Vaughn, for making my job that little bit easier!! https://www.huntsham.com/
Rupert and his team look forward to welcoming you to the restaurant very soon. For reservations please call 01342 810567 or email info@gravetyemanor.co.uk.
Marcus Wareing at the Berkeley

Summer dining at Marcus Wareing

The rare breed Middle White is sourced from Huntsham Farm in the beautiful Wye Valley owned and run by Richard Vaughan. The farm has been in the Vaughan family for nearly four hundred years. Richard and his wife Rosamund, specialise in producing rare breeds of meat – such as Longhorn Beef, Ryeland Lamb and Middle White Pig (still available to try on our lunch menu in celebration of Slow Food Week). Huntsham Farm rare meats are in hot demand by top restaurants and a variety of well known chefs. Vaughan is experiencing unprecedented success as a supplier as there only 350 Middle White sows in the UK, of which 120 are owned by him. By using rare breeds we ironically encourage the survival of these fabulous forgotten foods to ensure they are around for years to come. We are hoping to try some beef next!
Michel Roux – Le Gavroche, London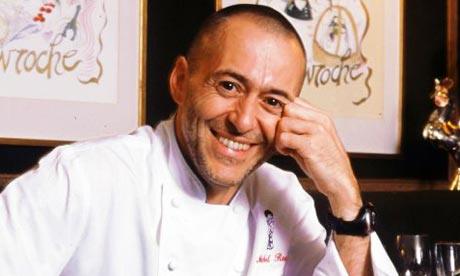 "Middle White pork has the crispiest skin and the best flavoured fat to accompany its fantastic tasting meat."
Fergus Henderson – St John Restaurant,London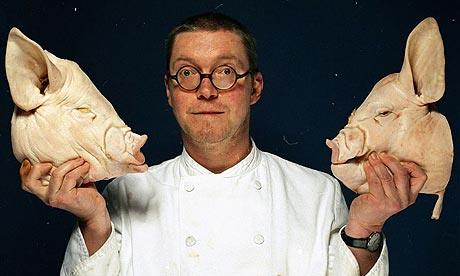 "Richard Vaughan's Middle White pork is 'Nose to Tail' delicious"
Henry Brosi –The Dorchester and 45Park Lane, London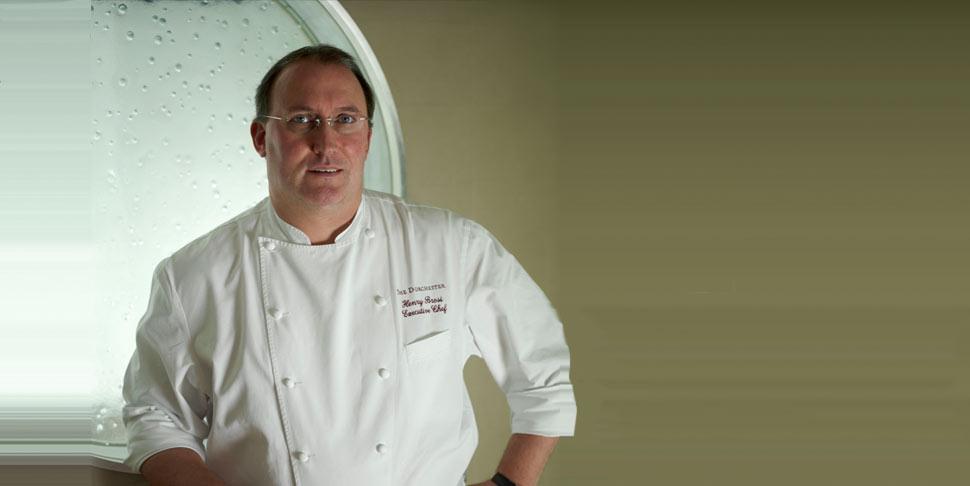 The Longhorn Beef is some of the finest beef I have tasted in my years as a Chef. The regularity of the marbling comes up trumps as it melts beautifully whilst cooking creating the taste and texture I am looking for to serve to our guests.
I go only to Huntsham Farm for my Middle White pigs. The pigs I receive are so succulent and tender that nothing else compares in quality and flavour so my vote for the number one supplier of Middle White Pork goes to Richard and his team at Huntsham Farm.
Rowley Leigh – Le Cafe Anglais, London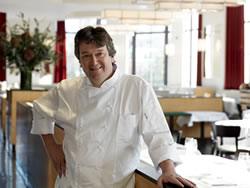 'What Richard Vaughan has achieved at Huntsham with his Middle White pork is nothing short of sensational. As far as our rotisserie is concerned, they are simply without compare for the quality of the crackling and the beautiful flavoursome meat…'
Jeremy Lee – Quo Vadis, London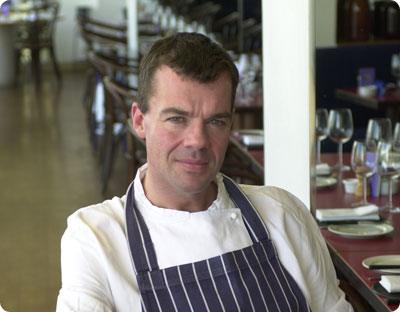 "Well, I have just nipped upstairs to jot down my thoughts on the subject of your truly marvellous Longhorn beef. It is peerless and requires no other prosaic foodie nonsense to say as much."
Ruth Rogers – River Café, London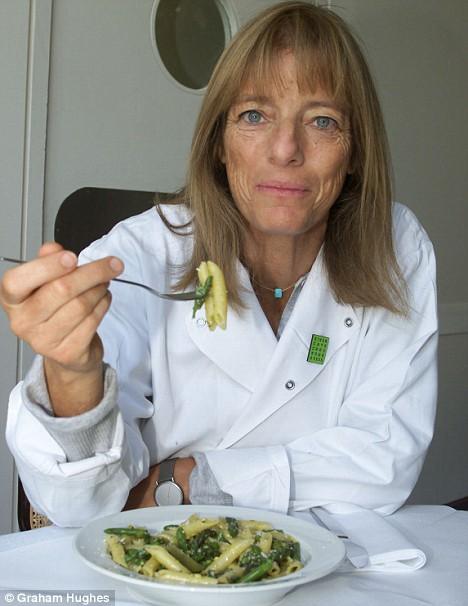 "Slow roasted Middle White pork loin from Richard Vaughan with Ligurian olives, fresh rosemary, garlic and Pinot Bianco is always a favourite on the River Café menu."
Bruce Poole – Chez Bruce, London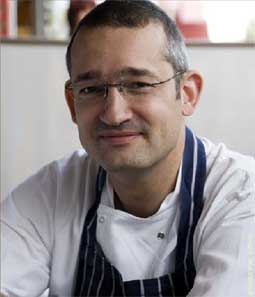 "Middle White is the best pork I have ever eaten."
Henry Harris – Racine, London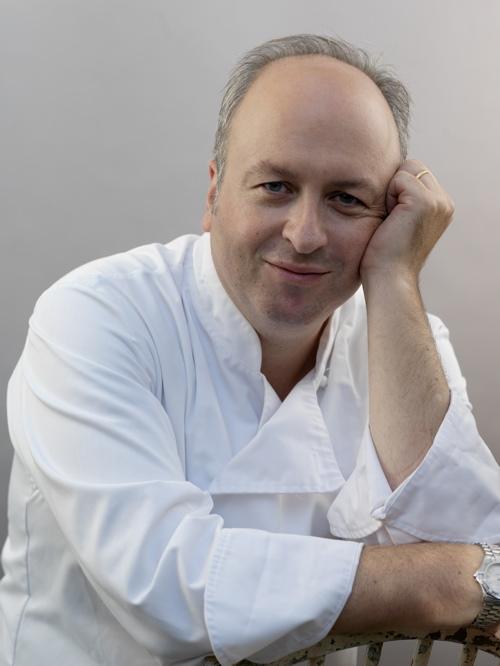 "Your English Middle White pork is quite remarkable. It has a flavour that surpasses even the finest of organically reared porkers.
It may have a heavier fat covering than most pigs, but the dripping that comes from it is so full of flavour, that it makes a roast potato a meal in itself. The only pity is there is never enough of it.
The Longhorn beef is also quite unique, with a more complex flavour than beef I have had before."
Chris Bailey – Black Rat – Winchester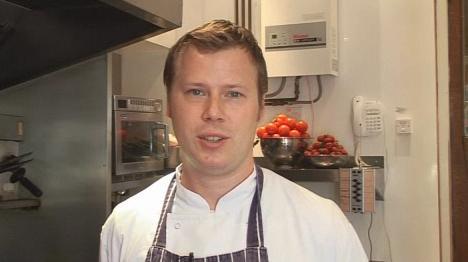 Dear Richard, Rosamund and team
I just wanted to say thank you for the service you have provided me with over the past five years I have been at the Black Rat. It is so nice to deal with a team as professional and friendly as yours. Your pork is by far the favourite produce we use within the kitchen and has been from day one. We use the best produce and suppliers for absolutely every one of our ingredients and not one of them quite bring the joy of the crackling of freshly roasted Middle White belly to us or our customers.
Thanks again, Chris Bailey – April 2012
What our customers say:
Hello Richard
Many, many congratulations to you Richard, Rosamund and all the team at Huntsham Court Farm. Your pork is the finest and recognition by City of Gloucester justified and accolade to your devotion for meat production.
Having been customers for many years now we are always so proud to say where our meat comes from and why it is such great quality.
Enjoy the special celebration of seeing your meat reach our King's coronation table and celebrate accordingly.
Our very best wishes to you all and a great big thank you.
Philip & Margaret 02.05.23
Dear Richard
Our hogget leg was melt-in-the-mouth for Easter lunch!
love from
Elizabeth 11.04.23
Hello Richard,
Somewhat belatedly, a brief note to let you know the 'porcetta' went down a treat. It was lovely and people commented: very clean tasting with no fatty residue in the mouth; fabulous crackling – the best you've done Mark!; soft, flavoursome and not too porky like some joints; the fat was fab, the best bit for some! I enjoyed it cold too in sandwiches – better than turkey!
When the occasion arises, I will be having some more.
Sausages very good too, great slightly sweet flavour, meaty and nicely seasoned.
Until next time, thank you
Mark 25.01.23
Good morning Richard,
The tastiest most flavourful pork our guests have ever eaten such was the praise for the Middle White loin. Of course the crackling was to die for, crisp but then it seemed to melt, they all wanted more.
Thank you so much, one guest asked for a link to your business, he may order.
Kind regards
Glen 09.01.23
Richard,
Happy New Year to you. I hope that you managed to enjoy a nice break.
Now that the festivities are all over, I thought I'd drop you a note to say thank you for such wonderful beef and for everyone's help in accommodating my requests to get so much festival food shipped close to the big dates. As always, the quality of the meat is second to none. This year it afforded my various guests great pleasure in the form of a chateaubriand, a smoked brisket that put what we'd tried in the US to shame, an imperious roast forerib and the sausage meat stuffing for a goose. We're still going on the cold left-overs and have only just started on exercising it all off, but the experience and the produce really was exceptional. Thank you to you, Steve and everyone who works to run the business.
Simon 05.01.23
Good morning Richard.
Many thanks for my delivery yesterday. We used some of your wonderful pork last night for a meal with friends. The flavour and quality is amazing. Everyone was very happy.
Happy Christmas to you
Elaine Scott 12.12.22
Good Afternoon Steve, Richard and Team
Thank you for my recent order of the Winter Warming Beef Box which I purchased. I am very satisfied with my first time order of this box as with the cost of living crisis this special box will feed many hungry mouths.
Many thanks,
Sylvia Dawson 20th Oct 2022
Dear Richard & Co,
It's been quite a while since I had some of your wonderful lamb so what a treat it was to tuck into a couple of meals from my recent delivery. The difference in flavour and succulence to what you pick up in the supermarket, or even the local butcher, is night and day and. I have been a customer on and off for many years now and have found the quality of your produce to be outstanding and so consistent.
Many thanks from a very satisfied customer.
Kind regards,
Caroline 29.04.22
Dear Richard,
Hope you are well and that the restaurant business is picking up again for you.
An enormous thank you – the fore rib steak is the best I have ever eaten. Back to school special Saturday night dinner. The steak was so tender and full of flavour. Izzy made some very delicious polenta coated chips and lemony kale.
We haven't eaten out yet – why would we with the best ingredients at home. Would love to go to the Newt though – half term …
Thank you so much
Patricia 19.09.21
Richard
Thank you very much for the lovely suckling pig that you sent a week or so ago. We had friends come round to pick up porchetta sandwiches from the garden last weekend. Everyone loved it. Best sandwiches EVER!
Much love,
Kemi 24.04.21
Hi Rosamund and Richard,
We just had another of your pork bellys slow roasted over charcoal – unsurprisingly once again it was incredible, elevating our simple meal to something way beyond the sum of its parts.
We have not eaten pork like this before finding yourselves.
Sorry to disturb, no need to reply.
Thank you once again,
Louise and Rick.12.04.21
Hi Richard,
Thanks for the reassuring phone call the other day. I took the leg down and washed the spicy salt off today. It had shrunk and smelt wonderful. Now hanging up in it's muslin sock.
Will be organising the cornichons and onion marmalade in 8/12 months time!
Best Kate 24.03.21
Hi Richard – we just wanted to say how much we enjoyed the suckling pig at Christmas and, more recently, the 55 day aged pork joints (we still have some left). All excellent and the crackling is so good.
Hope you will be able to start re-supplying some of your long-standing customers (restaurants) soon.
Regards Chris and Ann 18.03.21
Hi Richard,
Many thanks for the email, you must have been reading my mind as I was just about to send you one.
Further to receipt of our previous order and after many wonderful meals, I just had to write to you and let you know what we thought of the beef and the middle white pork you sent us.
In one word……………………OUTSTANDING!!
Pardon my french Richard but, the meat was bloody marvelous!……flavourful, succulent just all round wonderfulness.
You have a customer for life.
Looking forward to placing my next order.
Kindest regards, Steve 12.03.21
Hi Richard.
The sirloin and fillet arrived this morning.
We had some of the fillet tonight and it was just like butter. Outstanding. Very special and worth every penny.
Thank you.
Neil 03.03.21
Hello Richard,
We ate the topside joint from our Slow Roast Beef Box last night and it was voted delicious by everyone.
BW Joy 01.03.21
Dear Richard,
This evening (Sunday) we enjoyed the Pork Shoulder joint supplied with our order. I found it to be light and sweet tasting, yet rich at the same time. The crackling was amazing too. I felt as though I was in a very nice restaurant, despite having cooked the food myself. I find myself looking forward to eating the leftovers tomorrow, despite being utterly full at this moment.
Since our order arrived, we have also thoroughly enjoyed one pack of the minced beef, and a pack of sausages – both of which have rendered our usual supermarket's version completely redundant.
We will be ordering again very soon, but I wanted to say a heartfelt thank you for reminding us how meat is supposed to taste. I cannot wait to have friends and loved ones to dinner so I can share some of your excellent fare with them.
With kind regards, Karen
17.01.21
Hi
Just a quick email, I am sure you get many compliments but just wanted to say my first order won't be my last I have just finished cooking the last of my beef and made the best beef bourguignon ever ( appreciated the bone marrow ) …next time will try fillet beef and your pork…will praise you wherever I can and wish you continued success in these troubling times.
Will order soon
Kind regards
Anita Ingham
13.01.21
Richard
Just to say the Rib Roast we had from you for Christmas was spectacular!
Many thanks
Peter
08.01.21
Hi Richard,
Just want to say the burger mince is amazing, the whole family loved my homemade burgers, so much flavour. Will be sharing on social media.
Regards Tim Buthfer
28.12.20
Dear Richard, family & staff,
Thank you for providing the most wonderful food for our table. My brother and I would like to take this moment to wish you all a very merry little Christmas and a happy, prosperous & healthy 2021.
Long may Huntsham Court Farm reign.
Regards Paul & Barry Pike
25.12.20
Richard
Thank you for the beef delivery today. I had the sirloin on the bone tonight, and it was truly exceptional. Thank you for all your lovely deliveries this year. I'm looking forward to trying your lamb for the first time in 2021. Wishing you, your family and staff the very best for Christmas and New Year.
Stephen
Stephen Gunn BLE (Hons) MRICS
17.12.20
Dear Richard
The beef arrived this morning and I chopped off the tail to have grilled this evening with my son. It was a simple meal with salad, croquette potatoes and a butter sauce. My son said: 'this is five times as good as any beef we've had this year. It's tender, flavoursome and knocks the best of the supermarket into a cocked hat.'
So there. Christmas Greetings. Jill
Ps: I'm having this Christmas Day. Brilliant, even by your excellent standards.
16.12.20

Hi Richard just to let you know I will never go to a supermarket for meat again just have the pork joint out of this world
Got my granddaughters for the weekend there can't stop eating it
One big thank you Phil
12.12.20

Dear Richard,
Just a brief note to say that we have delighted with the quality and the flavour of your products.
We will order again soon.
I have also taken the liberty to send the link to your web site to a couple of friends.
Best regards Raffaella Bush
12.12.20

I ordered two barbecue boxes for my family over the summer. We had the most fabulous barbecues. We recently also ordered a lamb. This was probably the best shoulder of lamb I have ever had. I have been ordering from Huntsham for a number of years now and the quality is consistently incredible.

Dr William Buxton

October 19th 2020
Dear Richard
A quick note to let say that the suckling pig was utterly delicious. Literally not a single mouthful left… even had people picking at the face. Jason M
16.08.20
Dear Richard,
We have been well and truly spoilt. Silent children eating suckling pig shoulder – the crispy skin was perfection.
Not sure you can top that.
Thank from us all.
Patricia
June 30th 2020
Dear Richard,
Good food is more important than ever at this odd time. We have just had the best roast shoulder of pork with local organic vegetables, little roast apples and good gravy of course. Thank you so much for the best meat – our Sunday roast is a focal point of the week. The kids are eagerly awaiting suckling pig – it's not all going to get to the freezer.
Thank you
Patricia
June 2020
Hi Richard
Just wanted to send you a note to say how amazing the beef is. In fact it's the best I have ever eaten! Will definitely be ordering again and recommending.
best Jenny 19th April 2020
Dear Richard
I could not resist having a couple of pork chops last night. Gosh they were good. It's ages since I last had some Huntsham pork. Nothing comes close really.
Jill James – Formerly Food Editor of Financial Times – 17th April
Dear Richard,
We've received the meat parcel. Thank you very much for the beautiful meat selection. We had the sausage and all of us love it! Best wishes and Good Health,
Szilvia – 17th April 2020
Dear Richard
Our beef and pork order arrived today. It looks fantastic. I see what you mean about the steaks. We are going to have one at the weekend. Just to let you know that we had a pork joint on Sunday and it was amazing. So much crackling and such tender meat. Sausages were on the menu last night. Such a subtle flavour. In fact we kept out a packet of today's delivery to cook for lunches this week. I'm going to try the mince tomorrow. So much choice. I'll keep spreading the word. Kind regards
Diane – 15/4/20
Dear Richard,
I was very satisfied with the beef and do not see how I can ever go back to my supermarket supplier, decent though their produce was. The steak was so tasty and the mince, as tender as I have ever known and with no offal filler.
Best wishes, Christina – 15/04/2020
Hi Richard,
We had fried sausages & roast loin for dinner. Outstanding taste.
The roasted spuds cooked underneath the pork, gave the potatoes a magnificent flavour.
Guess we're preaching to the converted, but it has to be said, simply the best.
Just a comment on hogget order. We would like the whole hogget (over 20kilos) not half as mentioned in your previous text. Please acknowledge and confirm by return.
Thanks again.
Regards
Paul & Barry Pike. 27th March
PS … The sausage tasted much better cold, just a personal preference.
Hi Richard,
Hope this finds you and yours well. I just had to write to let you know that the fillet steak was just heavenly. I cooked it this evening for supper and the quiet groaning from my family said it all!
It was exquisite, so beautifully tender I'm sure we could have cut it with a butter knife.
Thank you so very much for allowing me to buy one.
Take care, hope you have a lovely Easter,
Best wishes, Jackie 31st March 2015
Richard the half pig I collected on Friday for a family party was an unqualified success. There was general agreement that the pork was exceptional flavour compared to other professional pig roast. You also made the buying process easy with helpful advice. So thanks for your help.
John Moore 18th August
Hi Richard,
Just a quick message to thank you for such a great experience, firstly with your friendliness when my brother and I turned up unannounced and with the tour of the farm, I bought the pork and beef boxes and am very glad I did. The pork has to be the best tasting pork I have ever had. I made brawn from the head and trotters, and the flavour was that good I didn't have to play with it at all, just the pork, a few root veg and seasoning, outstanding all my brothers noted that had never had such a good brawn. The first thing we cooked was a family meal with the forerib of beef, it was like going back to our childhood when meat was hung properly and had a good covering of fat and hence flavour, brilliant.. and as I told you when I came to visit you, your sausages are way and above the best I have ever tasted, that view has not changed now that I have had a chance to cook them myself, they make the ultimate breakfast sausage.
again many thanks
Colin and Leslie Barnes May 15th
Dear Richard,
A quick line to compliment you on your fantastic quality meat. For Christmas lunch I entertained 15 guests and served them your forerib of beef and a leg of your pork, I have been fortunate to have eaten some great tasting food in my lifetime but your meat was exceptional, taste,texture and flavour were all amazing.,
Congratulations to you and your team and thanks for making my Christmas dinner memorable.,
Yours Sincerely,
Paul Jackson,
Dear Richard,
As you already know The Stones love your beef and pork. We had our first piece of your lamb yesterday – a half a shoulder as there were only three of us for lunch – it was a perfect 10/10 on all counts. The boys want to know when they can try the chops – it was everything you promised.
Thank you.
Warmest regards,
Patricia – 9 May 11
Dear Richard,
I would just like to let you know how much we, plus friends and family, have enjoyed the Longhorn beef. A few sceptic friends could not believe that it was worth having beef sent from Herefordshire, but they have changed their minds after being invited for the family Sunday Roast! Maybe you'll get some more customers at some point.
I'll contact you on our return from Holland to re-order some pork – sharing with the children this time.
Thanks again
Vanessa – 12th April 10
Dear Richard
I just had to tell you that we made the racks of lamb last night and the conclusion was that is the best lamb we have ever eaten.
Best regards.
Debbie – 4th March 10
Dear Richard,
Middle White pork received with thanks.
Just had a loin joint on the BBQ, with Roast potatoes done in the pork fat. Utterly delicious. Was served just on the slightly rare side, resulting in the juiciest most tender pork I have ever tasted. The crackling was outstanding.
Needless to say the beef is also up to its usual standard.
Will be in contact when the freezer is emptied, more than likely to pick up from your farm next time.
Kind regards
Adrian – 14th Sept 09
Dear Richard,
I like your new web site design.
Had 8 people for dinner last night. We slow roasted a flank (3.5 hours at 80 C.) Without exception everyone said it was excellent!
And, I haven't failed with crackling yet. The Middle White pork has also been a great success with the most unlikely guests eating everything including the wonderful fat.
Thank you for giving us so much pleasure.
Kind regards
John – August 31st 2009
Richard,
Just wanted to drop you a line complimenting you on the beef I received earlier this week. We started with the sirloin joint as a traditional roast beef dinner yeaterday and it was by far the best tasting piece of Longhorn beef we have ever had! I used to think that nothing could beat the Angus scotch beef we've always had before, now I feel I must tell everyone yours is THE BEST. Futhermore, the half a pig we bought off you Easter took me right back in time to my childhood. The smell from the kitchen whilst the shoulder joint was cooking had us all salivating in anticipation and not only was the pork delicious, but there was an argument over who would have the last piece of crackling! Both pork and beef worth every penny. Perhaps the best compliment comes from my dad who is now 79 and used to be a butcher when he was a young man. He reckons both Middle White pork and Longhorn beef our the best he has ever tasted.
Pete, Sue and family. – 18th May 2008
Dear Richard
The pork which we received recently was outstanding – it is moist, full of flavour with wonderful crackling- absolutely delicious.
We have just hosted a dinner party for three couples where we served your Middle White Pork. They all said it was the best pork they had tasted for years and wanted to know where I purchased it. I have emailed them details of your website, but you may wish to mail details of your product to them direct.
Vivienne – 22nd August 2007
Hi Richard,
Just to thank you, that our first order with you arrived this morning at 9am.
We have tried the steak and find that it happens to be the best steak that we have ever tasted.
1st class meat,1st class sevice
Looking forward to trying your pork in July.
Best wishes
Les and Pauline – 13th March 2007
Richard
I just wanted to say thank you for the Longhorn beef and Middle White sausages that I ordered before Christmas. Delivery was perfectly on time and the sirloin joint with the fillet rolled in was delicious and impressed all of my New Years eve guests! We have also been eating the sausages and used the diced and minced beef over Christmas which have been thoroughly delicious. The consensus on the sausages is that they are the best we have ever tasted!
I will certainly be back in touch when I need another delivery!
Best Wishes
Natalie – 3rd January 2007